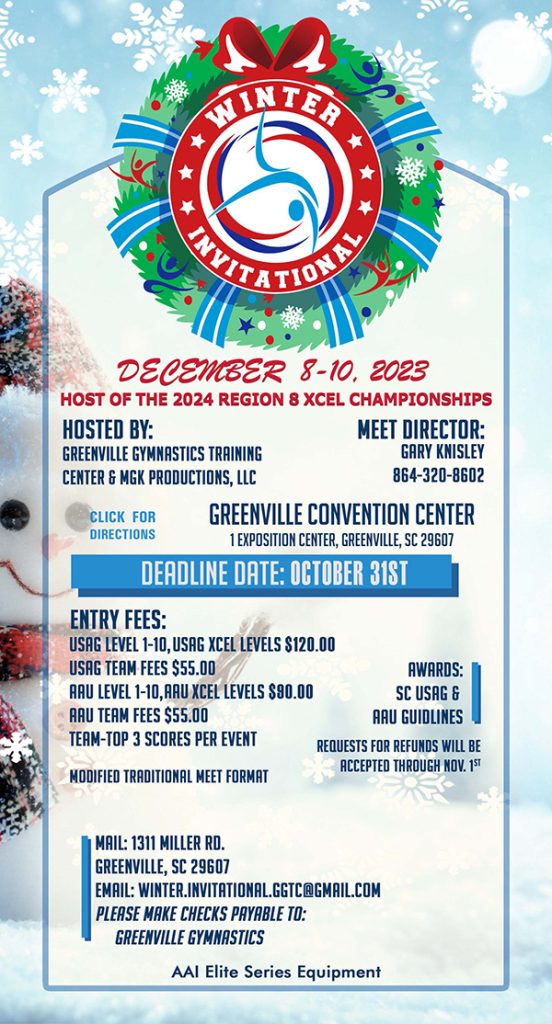 Directions to Meet
Click for Directions to the Greenville Convention Center
Admissions Info:
Adults (18-64): $20
Children (6-17)/Seniors (65+): $10
Children 5 & Under: Free
Competing Athletes: Free
All admissions are CASH ONLY
PARKING:
$5
HOTEL
Book your special group rate using the link below:
Click Link -> Winters Invitational 2023 Crowne Plaza Greenville
Group Code: WIN
Official Event Dates: Thursday, December 7, 2023 – Sunday, December 10, 2023
Guest Room: Deluxe King or Deluxe Double
Group Room Rate: $119.00 per room, per night, plus taxes
Cancellation Policy: 24 hours prior to check-in date
Group Reservation Deadline: 11.10.23 by 5:00pm EST
This is what you get when staying @ Crowne Plaza Greenville:
• Complimentary on-site parking.
• Complimentary shuttle within a 5-mile radius.
• Complimentary Wi-Fi in all guest rooms.
Please note: dates entered must be within the official event date range as shown above.
If guest needs additional days pre or post the main dates, please call the hotel directly to check availability.
Group code will automatically pre-populate when using the link above.